VISITORS BOOK
My best "fan" letter ever. :)
Hand written Sept. 29, 2013 in Paris,France and forwarded from my gallery Birkenfelds in Riga,Latvia.


Maria Martinez writes:

Dear Mr. Ulvis Alberts,I am 16 years old and Art is my passion. I am discovering your work, and I am writing to you to express my admiration and my enthusiasm for your way and for your works, your photos.I would be be very happy to have your autograph on the small card I'm sending you.

I thank you very much.

Sincerely,Marie

* Today I sent Marie a dozen small photographs, some recent invites to my exhibits in Europe this summer, and a letter. I decorated my envelope with a varied assortment of US postage stamps. And I signed her little white card. I hope she enjoys it all.
---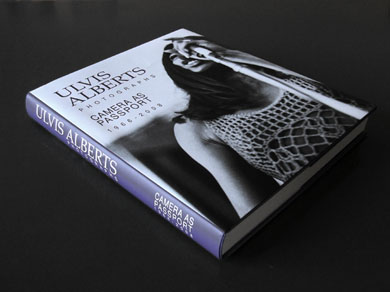 "A truly beautiful,extraordinary book, Ulvis. My new brother-in-law nearly cried
seeing the photographs. He is a true music and film fan, and he was touching
the pages as though they were the most fragile things on earth."

Kris Wetherholt,writer
and "Humanitas Media" publishing

---

"Ulvis you have outdone yourself this time! "Camera As Passport," the book or as we in the industry refer to it as the "photo bible" is a masterpiece. The depth and intimacy of your Hollywood personalities animates each shot with charisma and energy. And all those photos in one place in a book with paper as supple as Latvian breasts! As you know, I archive everything and this one will have to sit out quite a while now to fully take in the history it unfolds.You are the keen eye behind the lens, my good sir"
Rick Grunauer,
musicologist
Venice,California
---
"Ulvis,I am so completely shocked by the gift you sent, the book ('Camera As Passport') is magnificent! I had no idea.
Your images are from my generation and memories and so I'm enjoying it greatly. Thank you so very much for the book and especially the nice note you left me."
Cole Thomson,photographer
---
"Your book(Camera as Passport) is beautiful and haunting. An amazing evocation of a bygone era. I love the juxtaposition of photographs from Hollywood, Las Vegas and Latvia. You are a true artist."
Jennifer Tilly,actress
---